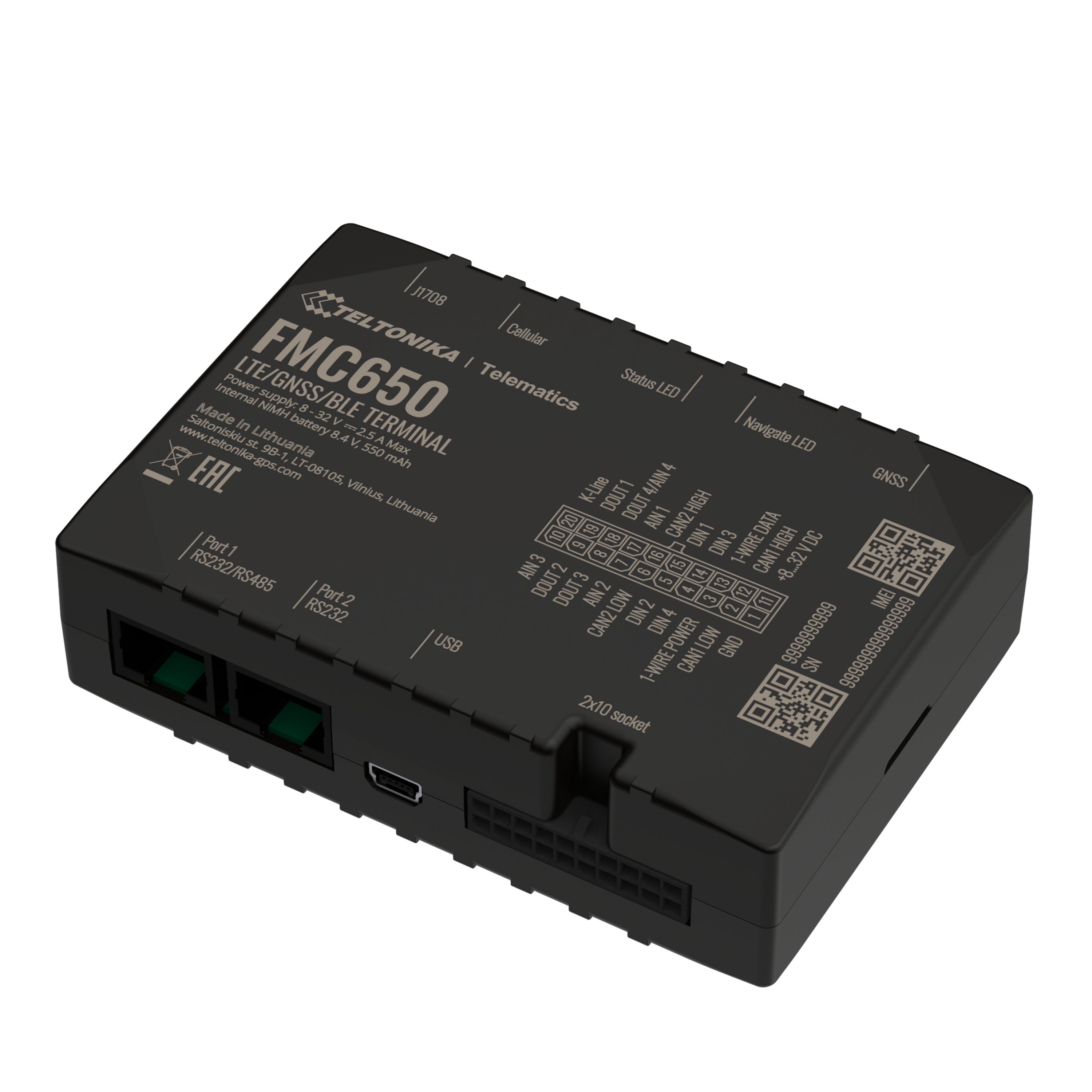 FMC650 (Europe, Middle east and Africa) + FOTA WEB
4G LTE Cat 1 tracker for advanced applications with high capacity backup battery and external antennas
---
Artikelnummer VAR-827002478
---
Nicht auf Lager, Nachbestellung läuft
Voraussichtliche Versandverzögerung über den verfügbaren Bestand hinaus: 2 Wochen
---
---
Description
RELIABLE GLOBAL COVERAGE AND SEPARATE GNSS MODULE
Reliable 4G connection with fallback to 2G network ensures wide-ranging coverage of your fleet management needs. This model uses a separate module to gather GNSS data and has dual-channel, L1 + L5 support.
REMOTE DOWNLOAD OF TACHOGRAPH FILES AND LIVE DATA
Tachograph live data reading via K-Line, ALL-CAN, Tacho CAN or FMS connections for everyday driver management and fleet efficiency.
CAN DATA READING FROM HEAVY VEHICLES AND SPECIAL MACHINERY
Read J1939 data that includes standard CAN FMS from heavy vehicles like trucks and raw J1939 data from special machinery, such as construction cranes or electric buses. Possibility to connect to CAN line with multiple nodes.
CONNECTING EXTERNAL DEVICES
2x RS232 and 1x RS485 serial communication interfaces for connecting external devices, such as thermographs, sensors, RFID readers and more.
---
Standard package contains
FMC650 tracker
Input/output power supply cable (0.9 m)
4G/GSM antenna (3.0 m)
GNSS antenna (3.0 m)
---
Standard order codes
Product code
Region
Frequency
Package contains

FMC6508TFE01

Latin America

4G (LTE FDD): B1/B2/B3/B4/B5/B7/B8/B20/B28
4G (LTE TDD): B40
2G (GSM): B2/B3/B5/B8

Standard package

FMC6501TFE01

EMEA market

4G (LTE FDD): B1/B3/B7/B8/B20/B28
4G (LTE TDD): B38/B40/B41
2G (GSM): B2/B3/B5/B8

Standard package
| | |
| --- | --- |
| Art.-ID | 101802 |
| Zustand | Neu |
| Modell | FMC6501TFE01 |
| Hersteller | Teltonika |
| Herstellungsland | Litauen |
| Inhalt | 1 Stück |
---
Features
MODULE
Name
SLM320-E2, SLM320-LA
Technology
LTE (CaT1) / 2G (GSM / GPRS) / GNSS
GNSS
Module name
Airoha AG3335MB
GNSS
GPS, GLONASS, GALILEO, BEIDOU, QZSS
Receiver
L1 and L5 dual-band GNSS receiver
Tracking sensitivity
-165 dBM
Position Accuracy
< 2.5 CEP
Velocity Accuracy
< 0.1 m/s (within +/- 15% error)
Hot start
< 1 s
Warm start
< 25 s
Cold start
< 32 s
CELLULAR
Technology
LTE Cat 1, GSM
2G bands

SLM320-E2: B2/B3/B5/B8

SLM320-LA: B2/B3/B5/B8

4G LTE Cat 1 bands

SLM320-E2:

LTE-FDD:B1/B3/B7/B8/B20/B28

LTE-TDD:B38/B40/B41

SLM320-LA:

LTE-FDD:B1/B2/B3/B4/B5/B7/B8/B20/B28

LTE-TDD:B40

Data transfer

LTE FDD: Max 10Mbps (DL)/Max 5Mbps (UL) LTE TDD

Max 8Mbps (DL)/Max 2Mbps (UL) GPRS:

Max 85.6Kbps (DL)/Max 85.6Kbps (UL)

Data support
SMS (text/data)
POWER
Input voltage range
8–32 V DC with overvoltage (compatible with pulse 5a and pulse 5b) and reverse polarity protection
Back-up battery
550 mAh Ni-Mh, 8.4 V battery
Power consumption

At 12V <7 mA (Deep Sleep)

At 12V <13 mA (Online Deep Sleep)

At 12V < 47 mA (GPS Sleep)

At 12V < 68 mA (Normal)

BLUETOOTH
Name
Blue NRG232
Specification
5.0 + LE
Supported peripherals
Temperature and Humidity sensor, Universal BLE sensors support
INTERFACE
Digital Inputs
4
Digital Outputs 
4
Analog Inputs
4
1-Wire
1
RS232
2
RS485
1
CAN J1939
2
J1708
1
K-line
1
GNSS antenna
External High Gain (L1+L5)
Cellular antenna
External High Gain
USB
2.0 Mini-USB – device can be powered by USB for easier device configuration
LED indication
2 status LED lights
SIM
2x SIM Card (Dual-SIM) or 1x eSIM
Memory
16 MB internal flash memory and external Micro SD card up to 32GB
Switchable CAN terminators
Supported on CAN1 and CAN2 lines
PHYSICAL SPECIFICATION
Dimensions
104,1 x 76,8 x 31,5 mm (L x W x H)
Weight
197 g
OPERATING ENVIRONMENT
Operating temperature (without battery)
-40 °C to +85 °C
Storage temperature (without battery)
-40 °C to +85 °C
Operating humidity
5% to 95% non-condensing
Ingress Protection Rating
IP41
Storage temperature (with battery)
-20 °C to +45 °C
Battery charge temperature
0 °C to +45 °C
Battery storage temperature
--20 °C to +45°C
FEATURES
Sensors
Accelerometer
Scenarios
Green Driving, Over Speeding detection, Jamming detection, GNSS Fuel Counter, DOUT Control Via Call, Excessive Idling detection, Unplug detection, Towing detection, Crash detection, Auto Geofence, Manual Geofence, Trip
Sleep modes
GPS Sleep, Online Deep Sleep, Deep Sleep, Ultra Deep Sleep
Configuration and firmware update
FOTA Web, FOTA, Teltonika Configurator (USB, Bluetooth), FMBT mobile application (Configuration)
SMS
Configuration, Events, DOUT control, Debug
GPRS commands
Configuration, DOUT control, Debug
Time Synchronization
GPS, NITZ, NTP
Fuel monitoring
LLS (Analog), ODBII dongle
Ignition detection
Digital Input 1, Accelerometer, External Power Voltage, Engine RPM (OBDII dongle)
RS232 Modes
Log Mode, NMEA, LLS, LCD, RFID HID/MF7, Garmin FMI, TCP ASCII/Binary, TCP ASCII/Binary (Buffered), Rec to LCD, Atol Tachograph, UL202-2 Fuel Sensor, Iridium Edge/TSM232 Satellite backup, Carrier Freezer
RS485 Modes
Silent, Log Mode, NMEA, LLS, TCP ASCII/Binary, TCP ASCII/Binary (Buffered)
CERTIFICATION & APPROVALS
Regulatory
CE/RED, E-Mark, RCM, Pulse 5a