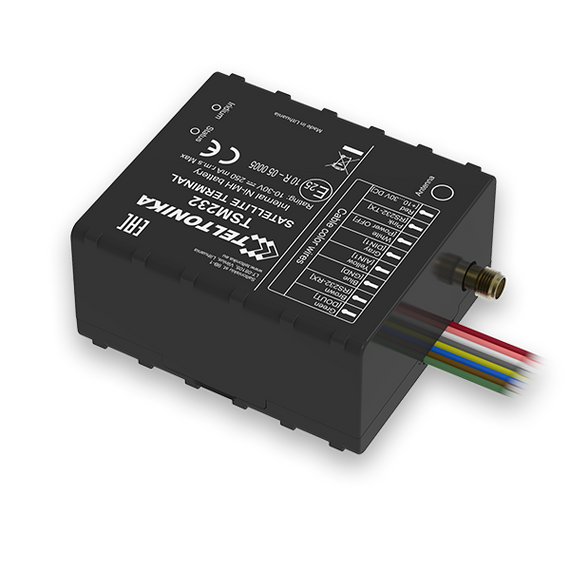 Teltonika: TSM232 + 1 hour free support
Satellite terminal, Iridium satellite terminal for Teltonika FM6XX or FMB6XX. One hour free technical support.
---
Código de artículo VAR-827000130
---
Agotado, reabastecimiento en curso
Retraso previsto en el envío por encima de las existencias disponibles: 2 - 4 semanas
---
---
Description
Teltonika TSM232 is Iridium SATELLITE terminal with a backup battery. Full solution combines Teltonika TSM232 with Teltonika FM63XY or FMB630 connected via RS232. This solution allows to transfer data to server via Iridium satellite network when other terrestrial networks are unavailable. High capacity internal Ni-MH battery ensures long autonomous working hours, when main power source is disconnected. Such solution meets the demand of high security logistic, marine transport, construction & mining transport, oil/gas industry, public safety, government/defense and more.
Mirifica added value:
One hour free technical support per email
---
Satellite terminal
Allows device to work without external power source
Digital Input/Output for remote monitoring and control
RS232 is an industrial standard for serial communication
Transfer data to server via Iridium satellite network
---
Standard package contains
TSM232 satellite terminal
Iridium antenna (1.5m)
| | |
| --- | --- |
| Identificación de artículo | 100088 |
| Estado | |
| ID de artículo histórico | 101083 |
| Modelo | TSM232A01001 |
| Fabricante | Teltonika |
| País de origen | |
| Contenido | 1 undefined |
| Peso | 200 g |
| Peso neto | 150 g |
| Dimensiones | 64×56×30mm |
---
Features
MODULE
Name
Iridium 9603 SBD Transceiver
Technology
Iridium satellite transceiver
POWER
Input voltage range
10 - 30 V DC with overvoltage protection
Back-up battery
Internal Ni-MH backup rechargeable battery 7.2 - 7.5 V 400mAh
Power consumption
At 12V < 7.13 mA (nominal)
PHYSICAL SPECIFICATION
Dimensions
64 x 56 x 30 mm (L x W x H)
Weight
210 g
INTERFACE
Digital Inputs
1
Digital Outputs
1
Analog Inputs
1
RS232
1
Antenna
External Iridium antenna
LED indication
2 status LED lights
OPERATING ENVIRONMENT
Operating temperature
(without battery)
-25 °C to +55 °C
Storage temperature
(without battery)
-40 °C to +70 °C
Operating humidity
5% to 95% non-condensing
Ingress Protection Rating
IP41
Battery storage temperature
-20 °C to +35 °C
FEATURES
Functionalities
Data transferring via Iridium satellite network when GSM network is unavailable,
Smart RS232 communication algorithm,
One FMB640/FM63XY message size fowared to TSM232 is only 14 bytes,
Message contains: Time/Coordinates/Speed/DIN1-4/DOUT1-2/Event ID,
Data sending can be initiated by periodic time interval or by panic priority event
CERTIFICATION & APPROVALS
Regulatory
REACH
---
Available versions
Region
Product code
package contains
World Wide Market