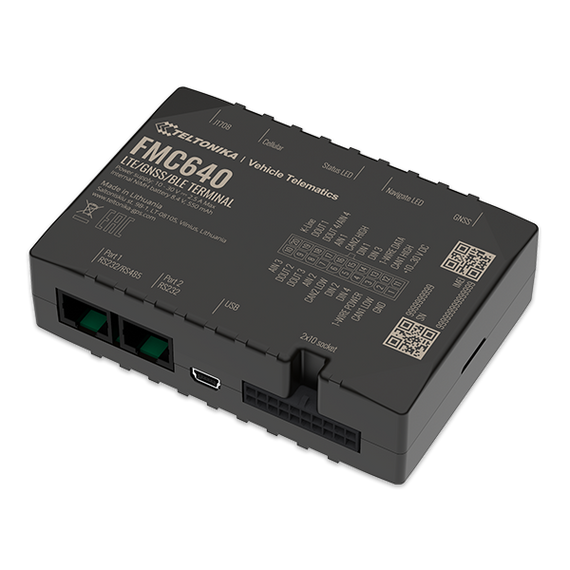 FMC640 (Europe, Middle East, and Africa) + FOTA WEB + 1 hour free support
Leading GNSS/LTE/3G/GSM Terminal designed for advanced applications with high capacity backup battery and external antennas
---
Référence de l'article VAR-827000517
---
En rupture de stock, réapprovisionement en cours
Retard d'expédition prévu au-delà du stock disponible: 2 à 4 semaines
---
---
Description
Teltonika FMC640 is a PROFESSIONAL series device with 4G (LTE Cat 1) network coverage including 3G (UMTS), 2G (GSM) fallback compatibility. Device equipped with GNSS/LTE and Bluetooth modules. FMC640 will maximize your fleet efficiency with features like FMS CAN data (J1939), fuel CAN data (J1708), tachograph live data (K-Line), remote tachograph file download, various third party RS232 or RS485 devices support and Dual-SIM.Terminal is suitable for applications like international logistics, refrigerated transport, agriculture, construction & mining, security & emergency services and even more.
Mirifica added value:
One hour free technical support by e-mail
---
Reliable 4G connection with fallback to 3G and 2G network
Bluetooth for external devices and low energy sensors
CAN data readout from vehicles and special transports
Dual SIM - significant reduction in roaming costs
RS232/RS485 serial communication interfaces
Tachograph files and remote data transmission
---
Standard package contains
FMC640 tracker
Input/output power supply cable (0.9 m)
4G/GSM antenna (3.0 m)
GNSS antenna (3.0 m)
---
Note: FMC640 replaces FM63XX, which will be discontinued in 2020.12.31
---
| | |
| --- | --- |
| ID de l'art. | 100108 |
| État | |
| ID de l'ancien article | 101171 |
| Modèle | FMC640253201, FMC640 253201 |
| Fabricant | Teltonika |
| Pays de fabrication | Lithuanie |
| Contenu | 1 pièce |
| Poids | 470 g |
| Poids net | 410 g |
| Dimensions | 104×77×32mm |
---
Features
MODULE
Name
Quectel EG91-EX
Technology
LTE(CaT1)/3G(UMTS/HSPA)/2G(GSM/GPRS)/GNSS
GNSS
GNSS
GPS, GLONASS, GALILEO, BEIDOU, QZSS
Protocol compatible
NMEA, GGA, GGL, GSA, GSV, RMC, VTG
Receiver
Tracking: 33/99 acquisition channels
Tracking sensitivity
-165 dBM
Accuracy
< 3 m
Hot start
< 1 s
Warm start
< 25 s
Cold start
< 35 s
CELLULAR
Technology
LTE Cat 1, UMTS, GSM
2G bands
EG91-EX: GSM: B3/B8
3G bands
EC91-EX: WCDMA: B1/B8
4G bands dedicated for EMEA region
EC91-EX: LTE FDD: B1/B3/B7/B8/B20/B28
Data transfer
LTE: LTE FDD: Max 10Mbps (DL)/Max 5Mbps (UL)
UMTS: WCDMA: Max 384Kbps (DL)/Max 384Kbps (UL)
GSM: GPRS: Max 107Kbps (DL)/Max 85.6Kbps (UL)
Data support
SMS (text/data)
POWER
Input voltage range
10 - 30 V DC with overvoltage protection
Internal Back-up battery
550 mAh Ni-Mh, 8,4 V battery
BLUETOOTH
Specification
5.0 + LE
Supported peripherals
Temperature and Humidity sensor, Headset, Universal BLE sensors support
PHYSICAL SPECIFICATION
Dimensions
104,1 x 76,8 x 31,5 mm (L x W x H)
Weight
197 g
OPERATING ENVIRONMENT
Operating temperature (without battery)
-40 °C to +85 °C
Storage temperature (without battery)
-40 °C to +85 °C
Operating humidity
5% to 95% non-condensing
Ingress Protection Rating
IP41
INTERFACE
Digital Inputs
4
Digital Outputs
4
Analog Inputs
4
1-Wire interface
1
RS232
2
RS485
1
CAN j1939
2
J1708
1
K-line
1
GNSS antenna
External High Gain
Cellular antenna
External LTE CAT 1 High Gain
USB
2.0 Mini-USB
LED indication
2 status LED lights
SIM
2x SIM Card (Dual-SIM)
Memory
2 MB internal flash memory and external Micro SD card
FEATURES
Movement detection
Accelerometer
Scenarios
Green/Eco Driving, Over Speeding detection, Jamming detection, Excessive Idling detection, Towing detection, Crash detection, Immobilizer, iButton Read Notification
Functionalities
Auto Geofencing, Manual Geofencing, Trip detection, Odometer, Fuel counter, GNSS Unplug Detection, DDD download and Tacho online data, Offline tracking
Supported peripherals
Garmin, RFID RS232, RFID 1-Wire, iButton 1-Wire, Temperature 1-Wire, LV-CAN200, ALL-CAN300, CAN-CONTROL, CAN FMS (J1939, J1708), K-line data, Continental tire pressure measurement sensor, Iridium SBD (TSM232), Carrier freezer, Log Mode, NMEA, TCP ASCII/Binary
Sleep modes
GPS Sleep, Online Deep Sleep, Deep Sleep
Configuration and firmware update
FOTA Web, FOTA, Teltonika Configurator
SMS
Configuration, Events, DOUT control, Debug
GPRS commands
Configuration, DOUT control, Debug
Time Synchronization
GPS, NITZ, NTP
Fuel monitoring
LLS (Analog), Digital LLS (RS232, RS485), LV-CAN200, ALL-CAN300, CAN-CONTROL, CAN FMS, Ultrasonic level sensor
Ignition detection
Digital Input, Accelerometer, External Power Voltage
---
Standard order codes
Product code
Region
Frequency
Package contains
FMC640UX3201
Latin America/Australia & New Zealand market

4G (LTE FDD): B1, B2, B3, B4, B5, B7, B8, B28, B66

3G (WCDMA): B1, B2, B5, B8

Standard package
FMC640253201
EMEA market

4G (LTE FDD): B1, B3, B7, B8, B20, B28

Standard package
* - FMC640 supporta anche le bande 3G WCDMA: B1/B8 (2100 /900 Mhz), prima di ordinare il dispositivo controlla se il tuo operatore utilizza le bande menzionate.
Con le bande 2G il dispositivo funziona in tutto il mondo.