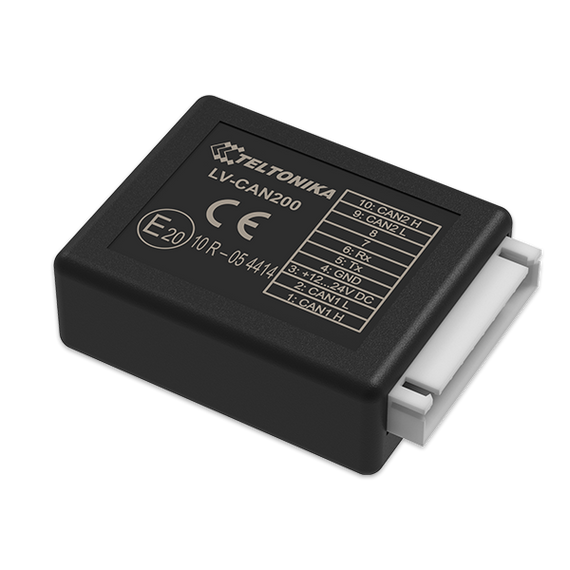 LV-CAN200 (LV-CAN200_9) 5 digits
CAN adapter for light vehicles. HW 245_5A_0A For FM6300, FMB640, FMC640, FMM640 devices
---
Numero di variazione (MEPA): VAR-827000081
---
Disponibili per la spedizione ora: ${ $store.getters.currentItemVariation.stock.net }
Ritardo di spedizione previsto oltre la disponibilità a magazzino: 2 settimane
---
---
---
Description
---
SUPPORTED VEHICLES
LV-CAN200 is designed to acquire data from light vehicles, trucks and buses.
BENEFITS OF LV-CAN200
Access to CAN Bus data enables fleet operators to report on a wide range of information. You can effectively identify areas of improvement within their vehicle operation to drive down overheads and minimize environmental impact.
---
 "Teltonika: LV-CAN200 (LV-CAN200_9) 5 digits"
Light vehicle CAN adapter
---
CAN data reading from trucks
CAN data reading from light vehicles
CAN data reading from buses and coaches
Easily get basic parameters such as mileage, fuel level, etc.
---
Standard package contains
LV-CAN200 adapter
Power wires
---
Note: It is necessary to know that LVCAN200_9 can be adapted to LVCAN200_6 just by cutting the USB head but the opposite is not possible.
 LVCAN200_6: For FM36yx, FMB1yx
 LVCAN200_9: For FM11yx, FM53yx, FM6yxx, FMA1yx, FMB6yx,
| | |
| --- | --- |
| ID articolo | 100039 |
| Condizione | |
| ID della variazione | 100382 |
| Modello | LV-CAN200_9 |
| Produttore | Teltonika |
| Paese di produzione | |
| Contenuto | 1 undefined |
| Peso | 200 g |
| Peso netto | 150 g |
| Dimensioni | 41×33×15mm |
---
Features
---
TECHNICAL DATA
Supported by
FM36YX, FM63YX, FMB1YX, FMB64X, FMC1YX, FMC64X, FMM1YX, FMM64X, FMU1YX  series
Input voltage range
9 - 63 V DC
Power consumption
At 12 V < 0.4 mA (Standby)
At 12V < 10.6 mA (Working)
Operating temperature range
-40 °C to +85 °C
Operating humidity
Max 85 % non-condensing
LED indication
1 status LED light
Supported vehicle features*
Total fuel consumption
Fuel level (Dashboard)
Vehicle mileage
Door status
Engine speed (RPM)
Engine temperature
Vehicle speed
Accelerator pedal position
CNG level
Total CNG consumption
Engine is working on CNG

*Number of parameters depends on vehicle model, year and equipment.
Dimensions
41 x 33 x 14.5 mm
Weight
55 g
---
Available versions
Region
Product code
Package contains
World Wide Market

 

(For FM11yx, FMA1yx, FM6yxx, FMB6yx, FM53yx)

 

 

 (For FMB1YX and FM36YX devices)