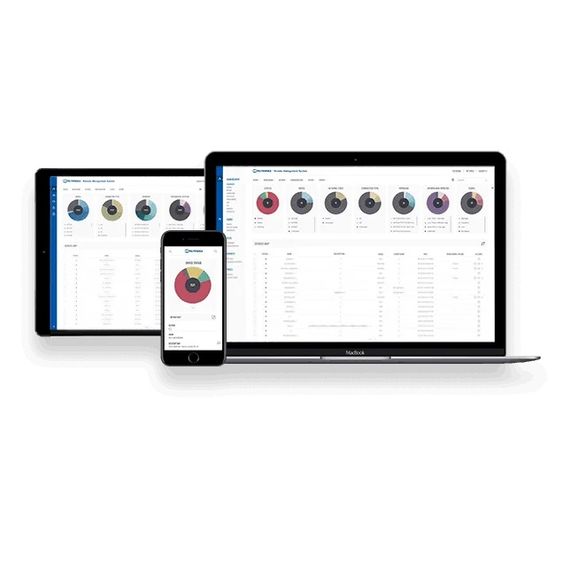 RMS credit code (*The code will be sent by e-mail*) + Support
Remote Management System. Credit = one month for one RUT device. *The RMS credit code will be sent by e-mail*
---
Item number VAR-827000074
---
Available for dispatch now: ${ $store.getters.currentItemVariation.stock.net }
Ready for dispatch. In stock
---
---
Description
Teltonika Remote Management System (RMS) allows you to conveniently manage and monitor your Teltonika routers and gateways, which include all RUT and TRB devices.
Try RMS for free
Each Teltonika Networking device comes with 1 month of free RMS service. If you have any questions about RMS please contact us.
---
Security
Security is a priority for Teltonika Networks product development team, and our Remote Management System (RMS) is no exception. RMS is a cloud-based platform used daily by thousands of businesses globally which use the system to stay in control of their mission-critical network infrastructure conveniently. Below we will outline a few of the steps we take to make sure our RMS users are secure from any cyber-attacks and unauthorized access.
What is RMS security mechanism?
Remote Management System (RMS) is a proprietary software solution developed by Teltonika Networks and hosted on AWS (Amazon Web Services). AWS has more than a million active enterprise users, including companies like Samsung, Netflix & NASA. It is arguably the safest cloud available today with a multitude of certifications and attestations including SOC-1/2/3 which makes AWS even safer than most On-Premise server configurations.
How does teltonika networks devices communicate with RMS?
Routers & Gateways by Teltonika Networks communicate with RMS platform using MQTT (Message Queuing Telemetry Transport) protocol which was chosen because of its security features. MQTT is secured with TLS protocol protected according to X.509 TLS 1.2 Standard signature algorithm. All communication between the device and the RMS is hashed and signed with RSA signature. Combined, this method of interaction complies with TLS 1.3 protocol requirements which ensures unparalleled privacy and performance compared to previous versions of TLS and non-secure HTTP.
How secure is RMS client connections to the system?
All clients access RMS via HTTPS; therefore, all communication is encrypted, making sure that no one will be able to intercept your login details and gain unauthorized access to the client's account. To make the access even more secure, we have implemented OAuth 2.0 authentication method with 2-way verification which will prevent unauthorized access even in an event if your login credentials are compromised or stolen.
What cyber-security certification RMS complies with?
Because all servers running RMS are hosted by AWS, RMS complies with CIS v7 infrastructure security certificate developed to align with the latest cyber threat data and reflect today's current threat environment. Moreover, RMS has been awarded OWASP 2 security certificate, which is popular amongst banks and other financial institutions.
---
Benefit
Enjoy a well-rounded solution for managing multiple Teltonika devices from a single platform. This includes remote command line and WebUI access, device filtering options by model, firmware version, connection status, custom tags and much more.
Remote access to non Teltonika devices
Have remote access to other equipment, including devices that aren't manufactured by Teltonika. If your Teltonika device is on RMS, it can be used to generate remote access links to equipment that is connected to its private network.
Use real-time email alerts in order to stay informed on what's happening to your devices. Special alerts can be configured for various events such as mobile signal strength falling below a certain threshold, status changes or device leaving/entering a defined GPS geofence.
Set up a custom report system that contains information on user requested device parameters. Reports can be generated periodically or for a specific time period. All generated reports are stored in RMS servers and can be downloaded at any point in time for future analysis.
Manage and track the activity of your WiFi Hotspot. RMS provides the possibility to add or delete users, monitor data usage and maintain complete awareness of your WiFi network.
Make sure you don't miss out on various improvements and new features that come with new firmwares. With RMS you can update hundreds of devices to the latest firmware version in just a few clicks.
Always stay informed of where your devices are and have been with the help of location history. You can view the location of moving devices at any point in time or set up static locations for devices that are stationary or incompatible with GPS for easier management purposes.
Statistics display charts
Use automatically generated charts to monitor the history of your device activities. Charts track the history of various status changes such as device temperature, mobile signal quality and data usage, making sure that no information is lost over time.
Have remote access to all of your devices from one platform. RMS is a client-server based system, which provides the possibility to access devices remotely even without the use of a public IP address.
---
Download the RMS app on iOS/Android for easy monitoring while on the move
Review your vehicle's trip history
Simplified maintenance and diagnostics
Multiple device configuration/updates
History of actions with devices
Device access without public IP address
---
---
The mirifica advantage
pre-sales support
post-sales support
first-level technical support (direct)
second-level technical support (official)
FM devices: FOTA WEB (free) fm.teltonika.lt
RUT devices: remote management system (subscription based) rms.teltonika.lt
---
| | |
| --- | --- |
| Item ID | 100032 |
| Condition | New |
| Legacy item ID | 101061 |
| Manufacturer | Teltonika |
| Manufacturing country | Lithuania |
| Content | 1 piece |
| Weight | 1 g |
| Net weight | 1 g |
---
Features
SYSTEM
Connection with server
MQTT protocol (with SSL certificates); VPN
Static device parameters
IMEI, model, manufacturer, hardware version, IMSI, product code, batch number, modem revision.
Dynamic device parameters
SIM state, PIN state, net state, signal (-dBm), operator, operator number, connection state, mobile connection type, temperature, sent bytes (of both SIM cards, if available), received bytes (of both SIM cards, if available), firmware version, current SIM slot, router uptime, mobile IP, WAN state, WAN IP, cell ID, MCC, MNC, LAC, ICCID, RSCP, ECIO, RSRP, SINR, RSRQ.
Hotspot parameters
Hotspot SSID, hotspot status (enabled/disabled), hotspot IP, total downloaded data, total uploaded data, users, active users, active user MAC, active user IP, active user start time, active user end time, active user use time, user downloaded data, user uploaded data, hotspot download limit, hotspot upload limit.
GPS parameters
Status, latitude, longitude, fix time, GPS date/time, altitude, speed, satellite count, course, accuracy.
Input/output parameters
Digital input, digital isolated input, analog input, digital OC output, digital relay output.
Security
OWASP II, Cis v7
Proxy
Webui, CLI, HTTP(HTTPS) Non-teltonika device
Cloud
Amazon Web Service
Eligible devices
RUT230, RUT240, RUT850, RUT900, RUT950, RUT955, RUTX08, RUTX09, TRB140, TRB142, TRB145.
Creatable alerts
Signal strength, SIM switch, device status change (online/offline), mobile data (connected/disconnected), GPS geofencing.
Update types
Firmware update, configuration upload.
Report types
Manual one time reports (day, week, month), periodic reports (daily, weekly, monthly)
Available downloads
Device configuration, event logs, troubleshoot file, CSV file of currently visible devices, generated reports, uploaded firmware files, uploaded configuration files.